Find below the list of references available and technical details of our screw for metal POWERLOK®, hexagonal flange head, TORX®, zinc plated + sealant + lubrified + baking.

All our references are available IN STOCK for immediate delivery.

Nominal dimensions (mm) of the head and recess type: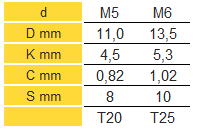 Contact us to receive more information about fasteners with other dimensions and coatings.