CELO, global industrial fasteners and screw manufacturer
Screws for metal in Automotive
The confidence of a leading manufacturer for the automotive sector.

While there are multiple solutions for the assembly on metal parts, only few of them meet all application requirements at the lowest cost possible. The screws for metal assembly become the best solution when it's required to withstand mechanical loads and assure high clamping, durability and reasonable assembly cost.

CELO accounts more than 50 years' experience manufacturing fasteners for the most demanding sectors. Throughout the years we've build a strong partnership with automotive companies around the world getting the endorsement of its designers and engineers which accredit our business expertise to meet any application or installation requirements.

Let us know about your project and our application engineers will assess you from design to installation providing you the best solution.
Moving towards material innovation.
The selection of materials in all automotive components is affected by the increasing need for lightweight, energy efficient, safety, sustainable and economic effectiveness. Steel, aluminum, magnesium and copper are the main metals used in automotive components, and its use in each particular application meets the criteria established by automobile manufacturers.

Steel is a low cost material widely used for the critical elements of the majority vehicle structures due to its capability to absorb impact energy. In addition to vehicle body and chassis, steel is used in many other automotive parts such as engines, wheels, doors or hoods. High-Strength Steel (HSS) competes with potential substitutes in all of these applications.

One of the ways to achieve the lightweight requirement is to replace steel with light metal alloys, like aluminum or magnesium, uncompromising the application performance.

Aluminium alloys provide excellent properties in terms of stiffness and formability as an alternative to high-strength steel. The consumption of aluminum in automotive applications has grown more than 80% in the past years due to its low density, high specific energy absorption and good specific strength. Aluminum castings are used for powertrain, chassis applications, electronic housing and instrument panels among other.

The graph below shows the global demand for aluminum products in 2018. Roughly a quarter of the total demand was consumed by transport. Megatrends in mobility, electromobility and additive manufacturing, new solutions and applications employing aluminum materials will keep the demand increasing in coming years.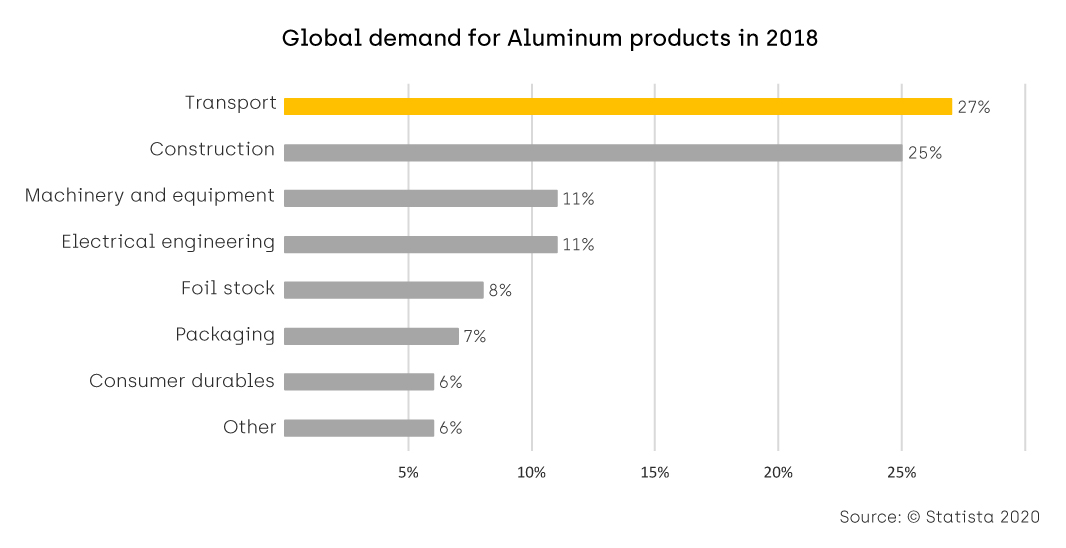 The use of magnesium is also increasing in automotive applications. It is 33% lighter than aluminium and 75% lighter than steel/cast iron components. Magnesium alloys offer excellent properties compared to steel and aluminum: ability to absorb energy, high specific strength, low density, high heat dissipation capacity, vibration absorption and high elasticity modulus. The ongoing trend to minimize the vehicle weight is expected to drive market growth.

Magnesium alloys are used in various vehicle's body parts, interior parts and frameworks such as oil pumps, electronic housings, radiator support….
Partnering to provide customized solutions
The selection of the right screw for metal becomes a critical step to ensure a safe and reliable joint over the entire vehicle service life. The optimal assembly solution is determined mainly by the nature of the base material and mechanical requirements of the application.

CELO designs and manufactures high-technology innovative screws for metal that contribute to cut down the overall assembly costs and the installation time. We know how important innovation is in the automotive sector, for this reason we partner with our customers providing full assessment from design to installation.

See the table below or contact us to know more about our fastening solutions for metal assemblies:
Type of metal assembly
Aluminum die casting pilot hole
Magnesium die casting pilot hole
Tapped holes in steel and die casting 
Thin metal sheet (thickness =<d/3)
Aluminum and steel sheet

TAPTITE 2000®

•••
-
-
-
•••

REMFORM® II F™

••
•••
-
-
-

POWERLOK®

-
-
•••
-
-

FASTITE® 2000™

-
-
-
•••
-

•

Acceptable

••

Correct

•••

Optimal