TORX PLUS® Drive improves assembly line performance, enhances product reliability and reduces total assembly costs. The design and functionality of TORX PLUS® Drive makes it one of the best drive systems for automatic and semi-automatic feeding lines.
CELO's commitment to continuous improvement has led to a standardized use of TORX PLUS® recess in our entire product range. Contact our application engineers now for more information.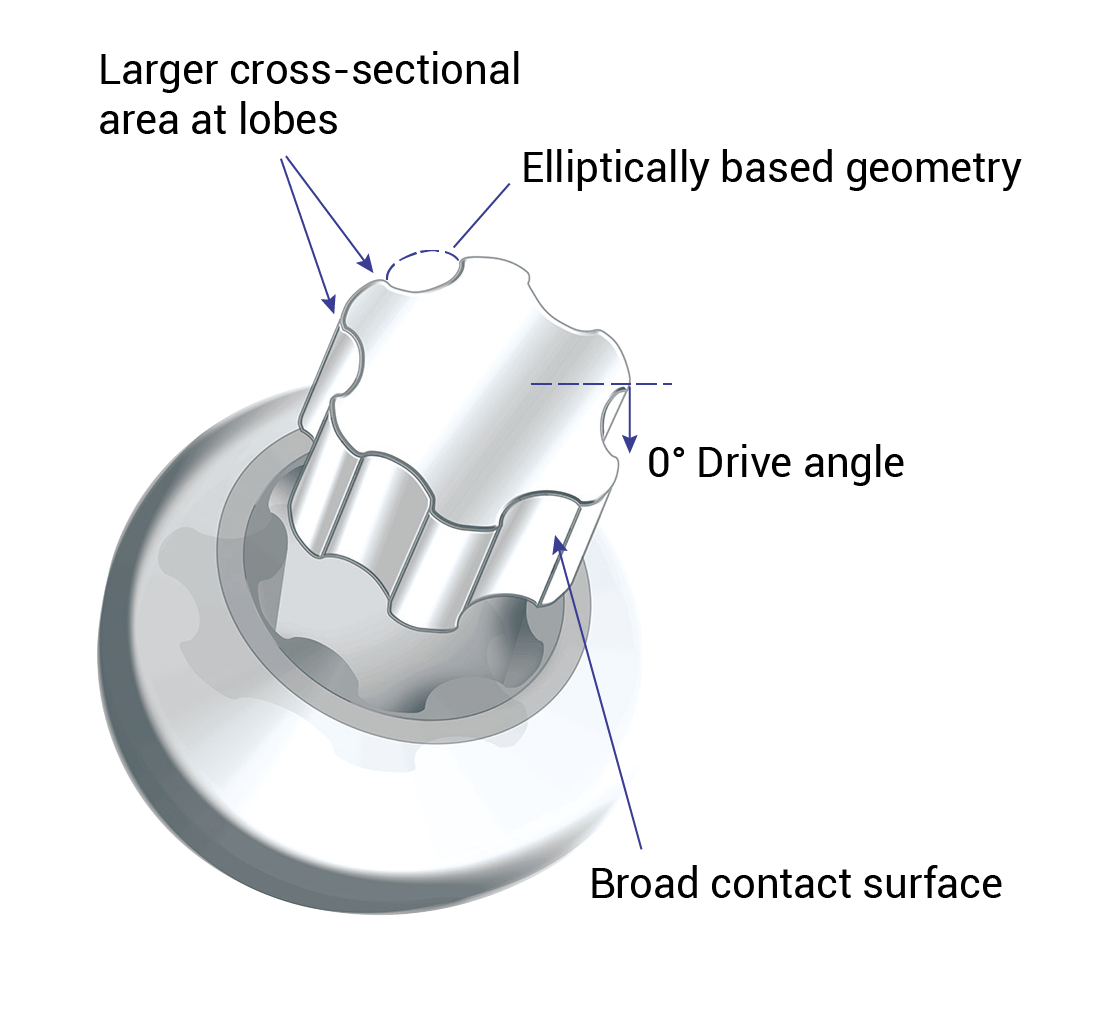 TORX PLUS® drive benefits
TORX PLUS® is the only drive system designed to improve overall productivity. The benefits of TORX PLUS® drive include: 
Ensures optimum torque transmission and, ultimately, required clamp load.
Reinforced torsional strength of the driver bits up to 25%.
Improves driver bit life: From 2 to 10 times more fasteners driven per bit.
Decreases assembly line downtime.
Reduces fatigue and muscular stress during manual assembly.
Let our application engineers provide recommendations for your project
How TORX PLUS® solves the most common fastener driving problems?
Avoid camout and tool slippage
The straight, vertical sidewalls of the TORX PLUS® Drive System virtually eliminate cam-out effects and offer perfect tool engagement. As a result, the risk of tool slippage, damage to fastener and surrounding surfaces is minimized.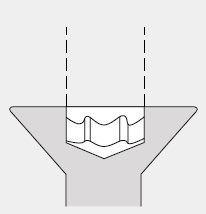 Faster tool/screw engagement
Six lobes with large cross-sectional areas, allows faster tool engagement, maximizes torque transfer and increases torsional strength.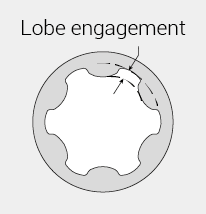 Achieve desired clamp load
With a true 0° drive angle, TORX PLUS® Drive system ensures optimum torque transmission and ultimately, required clamp load. Virtually eliminates the radial forces that can cause stress on fastener recesses.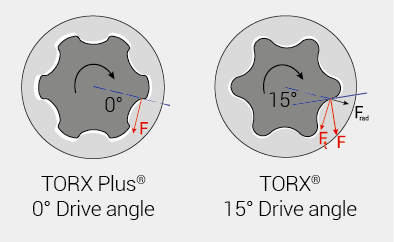 Reduces worker fatigue
The absence of cam-out effect eliminates the need of end-load to keep the driver engaged in the recess, which reduces fatigue and muscular stress during the manual insertion of the fasteners.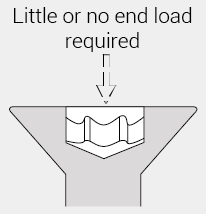 How TORX PLUS® drive helps you to reduce total assembly cost?
Extended drive bit life
The elliptically-based geometric configuration maximizes engagement between driver and fastener recess. It spreads driving forces over bigger surface area, improving torque transmission and extending tool bit life.
Reduces assembly line downtime
Every time a drive bit fails, the line has to be shut down to change the bit, consequently, line downtime has a negative impact on productivity. Drive Durability Test in Fig.1 shows the average number of screws driven per drive bit.
Reduces annual drive tool cost
TORX PLUS® Drive bit or socket may cost more than competing systems, its longer life translates into less drive bits, more assemblies per bit and consequently reduces costs and downtime. Fig. 2 shows the cost to assembly 150,000 screws with different drive systems.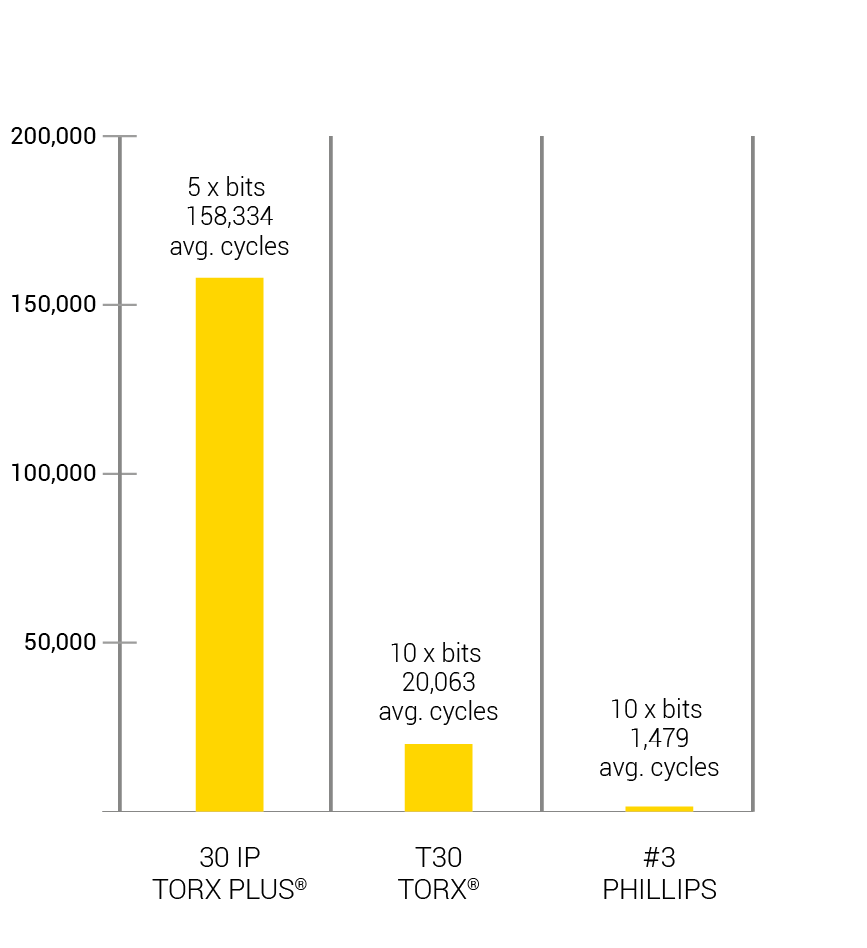 Fig. 1. Drive Durability Test Results 
-M6x1.0, pan head, Class 10 screws
-33rpm to 15Nm with 13.3 N end load.
-All failure modes were bit fracture.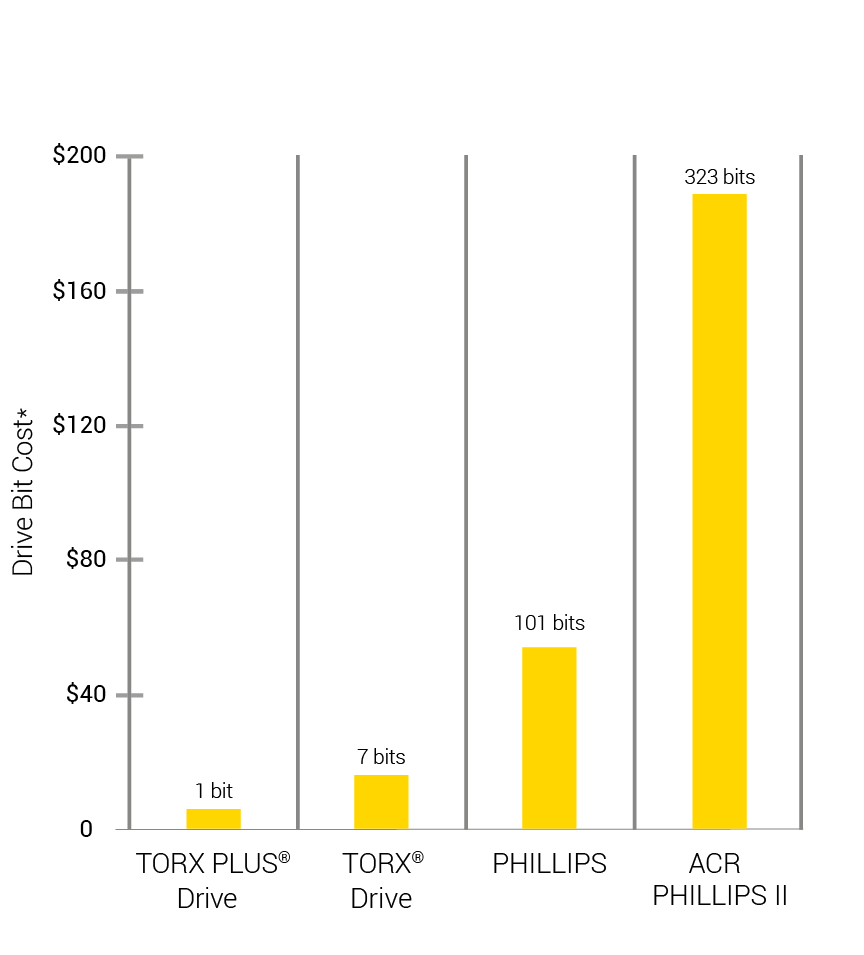 Fig. 2. Cost to assembly 150,000 Screws*
*The costs above reflect the number of bits each system would need under the conditions of the Drive Durability Test described before. 
Screws with TORX PLUS® recess can be driven with TORX® bits. However, we do not recommend this solution as the advantages and performance of TORX PLUS® drive will not be effective.
Do you want to try TORX PLUS®?