CELO, global industrial fasteners and screw manufacturer
Increase your assembly performance inLED lighting
Increase yourassembly performance inLED lighting
Discover how other lighting companies improved their productivity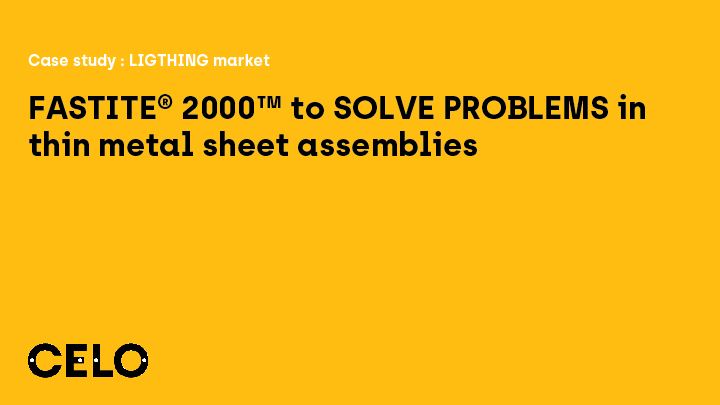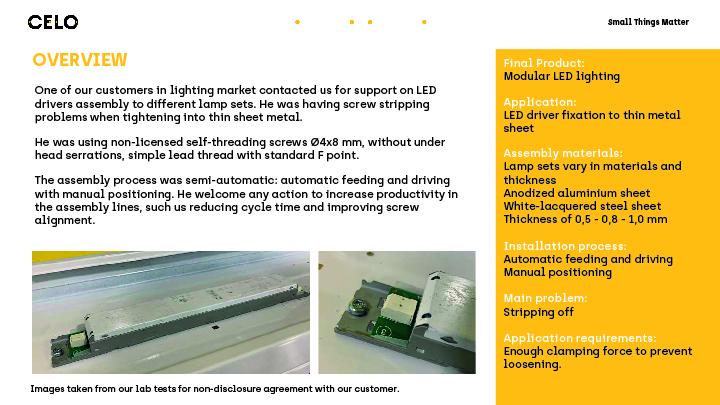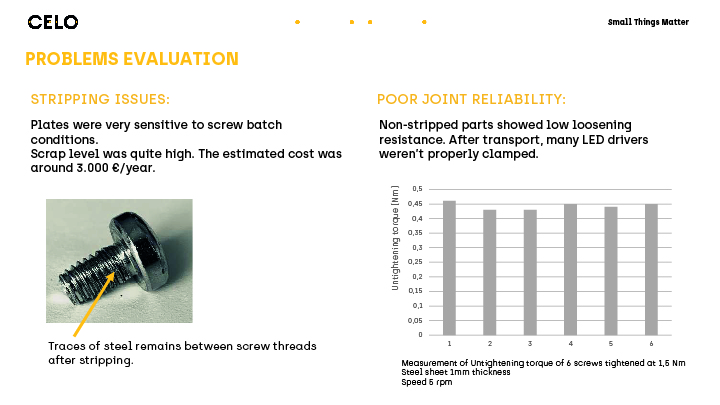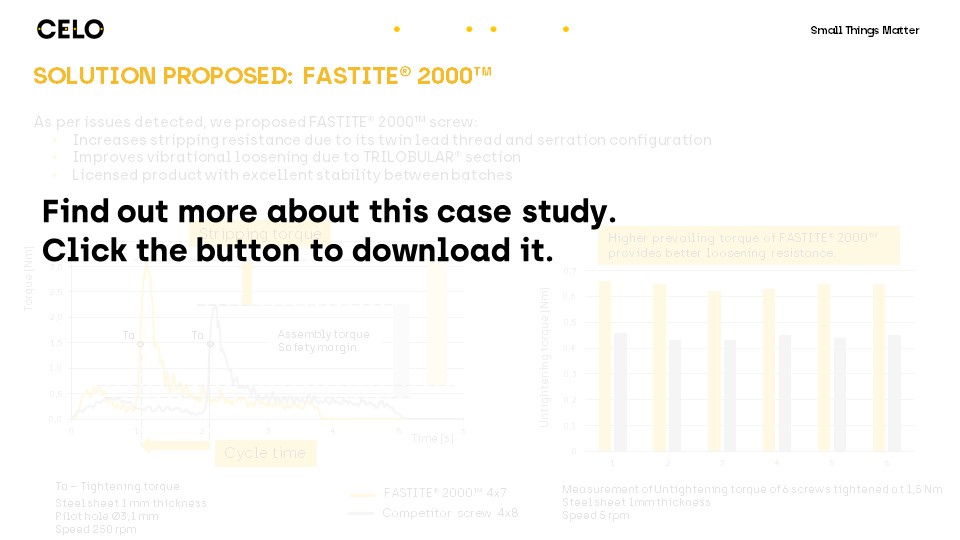 FASTITE® 2000™, the best screw for LED driver assembly in luminaires.
Lighting sector trends to use lighter and thinner materials that represent a challenge for the assembly of the different components. A clear example is the joining of LED driver to thin sheet metal.  FASTITE® 2000™ screw allows a safer and more efficient assembly process:  FASTITE® 2000™ screws pre-vents stripping off problems and reduces the cycle time to increase the productivity of the assembly lines.
FASTITE® 2000™ screws can be manufactured with different head designs, recess, material, dimen-sions and coating configuration to fit your exact application requirements. To offer a quick response to the needs of our customers, we have a wide range of references in stock. For more information on references available check our FASTITE® 2000™ product page.
Our application engineering team provides full technical assessment to customers worldwide. Find below the most frequently asked questions in the lighting sector.
What is the solution to the stripping problems when fastening into thin metal sheet?
In the lighting sector (as in other sectors) the problem of stripping in thin metal sheet is due to the short length of engagement and the difficulty in adjusting the tightening torque.
Our application engineers advise you with the solution that best suits your assembly conditions. 
Is there a solution that allows quick installation of LED driver while ensuring clamping force into thin metal sheet?
Yes, by choosing the suitable screw configuration we can ensure a safe and efficient assembly of your LED driver into thin metal sheet, while increasing the productivity of your assembly line.
Equally important is ensuring that the LED luminaire reaches the point of sale in optimal conditions, to guarantee the expected LED performance.