CELO, global industrial fasteners and screw manufacturer
Screws for plastic in automotive
There are multiple solutions for the assembly of plastic parts, but few of them meet all the possible application requirements. Let our experts give you their advice.

The screws for the plastic components in a car represent a large percentage of its total number of fasteners. Some of its elements such as the instrument panel, headlamps, mirrors, door modules or bumpers include different types of screws for plastic to hold the different parts together and withstand the necessary loads.

The automotive industry is the third largest industry after packaging and construction for plastic consumption.

Plastics perform from the engine to the chassis; throughout the interior to the exterior, replacing traditional materials like steel and glass and contributing to vehicle weight reduction. Nowadays, plastics make up approximately 50% of the volume of a modern light vehicle but less than 15% of its total weight.

PP, ABS, PC and PA are some of the most common thermoplastics used for automotive components, where the joints are submitted to vibration, thermal shock and high mechanical loads.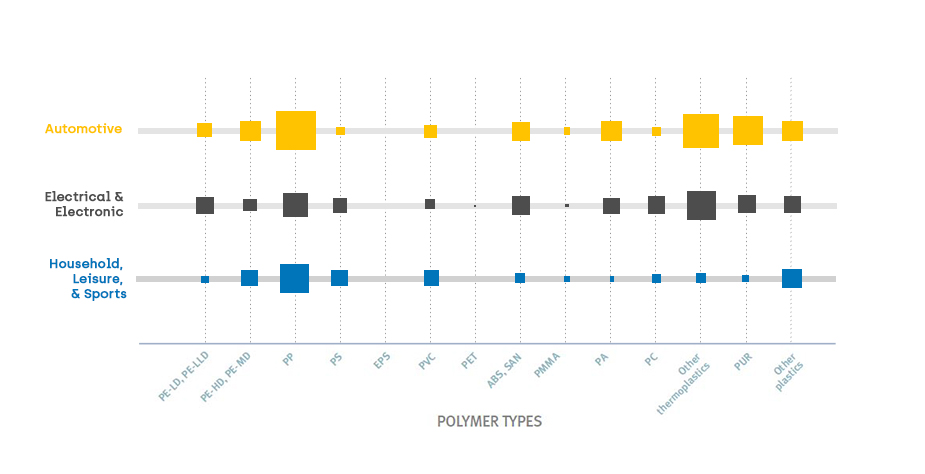 Source: PlasticsEurope, Association of Plastic Manufacturers

The use of glass fiber-reinforced thermoplastics in structural elements implies that the screws are submitted to higher mechanical demands. The selection of the right screw for plastic becomes a critical step to ensure a safe and reliable joint over the entire vehicle service life. More than 50 years' experience and the endorsement by designers and engineers from renowned automotive companies, accredit our business expertise to meet any application or installation requirements.

CELO designs and manufactures highly technologically innovative screws for plastic that contribute to cut down assembly overall costs and installation time.

See the table below or contact us to learn about our current screw solutions for plastic assemblies:
Type of plastic

Ductile plastics
PP, PE, PT
< 1,900 MPa

(< 275,571 psi)

Medium plastics
ABS, ABS/PC, PPO, PA66
1,900 - 2,999 MPa (275,571 - 434,968 psi)
Hard plastics
PC+10GF, SAN, POM+20GF
3,000 - 6,850 MPa (435,113 - 993,508 psi)
Very hard plastics
Fiber-reinforced
plastics (30GF)
> 6,850 MPa (

>993,508 psi)

Thermoset
plastics

REMFORM

®

II HS™
-
•
•••
•••
••

REMFORM

®

••
•••
••
•
-

REMFORM

®

 II F™
-
-
-
-
•••

CELOspArk

®

••
•••
-
-
-

•

Acceptable

••

Correct

•••

Optimal